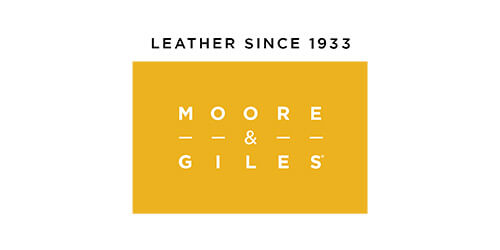 Founded in 1933, in Lynchburg, Virginia, Moore & Giles is dedicated to designing and developing the most innovative and luxurious natural leathers for the high-end hospitality, aviation/automotive and residential interior design industries.
Certifications
FAR 25.853(a) Vertical Burn Test., IMO 652, IMO 653, CA-117, NFPA-260, CA-117, Crib 5 etc.
Sustainability
Moore & Giles is a member of Design for Health by MINDCLICK and was awarded the title
Industry Leader (2021 – 2022).
Select leathers of Moore & Giles' Olive Tanned Collection are the world's first and only leathers to have received a Declare Red-List Free Label. They are sustainable, start to finish, biodegradable, 100% natural (hide + agent) and LEED Compliant (Red List Free).
Check out https://www.mooreandgiles.com/leather/olive-tanned/
Antimicrobial Spray for Leather
"Ecoshield" is a patented technology for the elimination of harmful surface bacteria: bacteriostatic, fungistatic, and algaestatic. Please contact me for more information.
More Information: www.mooreandgiles.com/leather
VISIT MOORE AND GILES WEBSITE FOR FULL COLLECTION